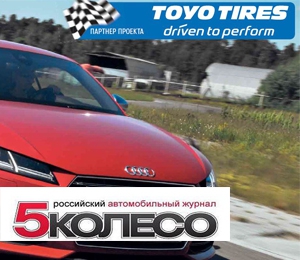 31.08.2015
Test drive TOYO TIRES together with the magazine "5th Wheel"
This summer TOYO TIRES became a partner of the project "Track-day" conducted by the magazine "5th Wheel". They tested at the landfill three new and current model cars – Hyundai Veloster Turbo, Volkswagen Golf R and Audi TTS, and told about their experiences.
For our tests we selected bus TOYO TIRES Proxes T1 Sport and TOYO TIRES Proxes T1-R, which did not disappoint and showed excellent performance!
As a test of tires for Hyundai Veloster Turbo were chosen as the standard Toyo tires model Proxes T1 Sport size, designed for the Turbo version, — 225/40ZR18 (92Y). Marking ZR, here is a common indicator that a tyre is sports oriented and designed for speeds above 240 km/h. The index Y is already a kind of refinement of bus stand and 300 km/h the First impression, which was observed after the installation, the car became noticeably quieter at high speeds while keeping the same stiffness. By the way, to shift the balance toward service and to remove excessive rigidity, it is realistic, if you install the same tire diameter 17 with a higher profile. Actually, dry track is the perfect habitat for these tires that were confirmed on the track. Proxes T1 Sport pleased with a good directional stability in turns, as well as transparent and predictable behavior in the limiting regimes where perfectly felt the beginning of the slides. Overall — a very decent tires that will fit and much more powerful cars.
To test the new Audi TTS used Japanese tires TOYO TIRES Proxes T1-R. This model of tire, and how Proxes T1 Sport, belongs to class UHP (Ultra High Performance – extremely high-performance tires) and is designed for sports and civilian vehicles, which include a new Audi. The tires have been tested on our roads, have directional V-shaped tread pattern that should ensure effective water drainage from the contact patch with the road, thereby improving the adhesion of tyres on a wet track. As for dry asphalt, it is a distinct advantage over Proxes T1 Sport, as when driving at high speeds and under heavy braking, it wasn't noticed: the car is as stable and the behavior of the maximum predicted. As for handling, the tires here Proxes T1-R exhibit a distinct sporty character.
Source: magazine "5th wheel"
Share