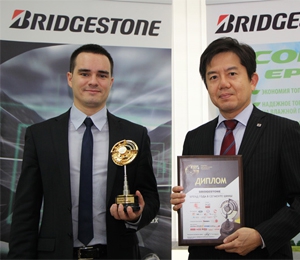 17.10.2014
Bridgestone recognized tire brand of the year in Russia
In the framework of the exhibition "MIMS Powered by Automechanika – 2014" was held III international prize "Global Automotive Components. According to the results of the Internet voting and opinions of the expert Council of first place in the category «brand of the year in the bus segment took Bridgestone.
In award of the "Global Automotive Components was attended by more than five hundred manufacturers from different countries of the world. In the framework of the ceremony were announced the winners: 23 awards in 16 categories. The presence of the independent expert Council, presented by industry experts, and allow the end user to choose the winners as objectively as possible. The expert Council includes representatives from automotive magazines "the 5th Wheel", "anti-lock brakes Auto Autoreview paper and several prestigious Russian technical universities, such as the State scientific center of Russian Federation Federal state unitary enterprise "US" and the Moscow state automobile and road technical University. Jury evaluated each of the nominees in several categories: manufacturing quality products, innovative solutions, and marketing activities of the brand and dealer network development.
Bridgestone participated for the first time in the Prize "Global Automotive Components and immediately received recognition, ahead by a large margin its competitors. «For our company very valuable high recognition experts and buyers in Russia, because the Russian market is for Bridgestone strategically important region. First place in the category "brand of the year" suggests that we are moving in the right direction. From our side, we Express our gratitude to the organizing Committee of experts and, of course, all voters – that is, they focus our products," said Mr. Kuroki Minoru, General Director of LLC "Bridgestone CIS.
Separately, the judges pointed out tires Bridgestone technology "ologic". Among the main advantages of the innovative development of the company is a smaller width and a larger diameter in combination with high internal operating pressure, which provides a light weight tires and low rolling resistance.
Share