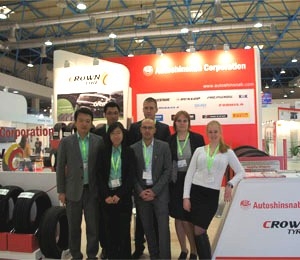 01.05.2014
Corporation " Avtoshinsnab " took part in the international exhibition
Corporation " Avtoshinsnab " took part in the 17th international exhibition of rubber products, production technologies, raw materials and equipment – "Tires & Rubber 2014 ."
This year, in conjunction with partners CROWN TYRE, China introduced the visitors exposure. On the stand were presented both freight and passenger tires .
According to the founders of the Corporation " Avtoshinsnab " Igor Khudiakova, past exhibition can be considered for the company more than successful. In addition to the planned activities aimed at the promotion of the company's tire market, negotiations were held with Russian and foreign companies, some of them have expressed a desire to cooperate.
During the exhibition stand of the Corporation visited several hundred people representing dozens of organizations, both from Russia and from abroad. Presented exposition has been much appreciated Russian and foreign experts, the media and the public.
As Igor Khudiakov participation in major industry trade shows – a great opportunity to meet in one place manufacturers, suppliers and buyers of tire products, learn about new technologies used in the manufacture of rubber products, to inform potential consumers about updates to the industry, but also to expand the boundaries of partnerships. The results show, once again confirmed that the demand for tire products is growing rapidly.
Today the branch network of the Corporation is actively developing : expanding the coverage area, the range of our products, the company has shown good performance and, of course, is a very promising player in the Russian tire market .
Share